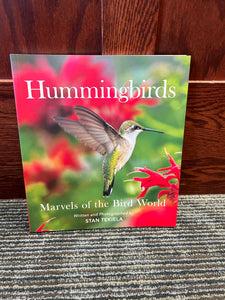 Hummingbirds Marvels Of The Bird World
Regular price
$19.95
$0.00
Unit price
per
dainty, Elusive, Delightful… the Hummingbird
Their beauty captivates us, their aerial acrobatics, enchant us. Hummingbirds, our beloved backyard, visitors. A siding is a remarkable event, worthy of remembering, cherishing, and sharing with others. Feel that Joy with every turn of the page in hummingbirds.
Award-winning, author, naturalist and wildlife photographer, Stan Tekiela presents stunning photographs and insightful descriptions of a hummingbirds life.
Give it a try. Open this book to any page and prepare to be struck with wonder.
---