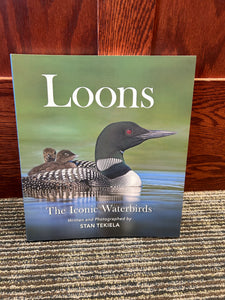 Loons The Iconic Waterbirds
Regular price
$19.95
$0.00
Unit price
per
Agile, nurturing, distinctive…
Their stunning beauty inspires us. They're haunting calls fill us with nostalgia. Loons are reminiscent of joyful days at the lake, of time spent with family. Their arrival each spring signals the end of winter, the warmer days are ahead. Feel sentimental with a every turn of the page in loons.
Award-winning author, naturalist and wildlife photographer for Stan Tekiela presents stunning photographs and insightful descriptions of a loons life.
The result is a book on matched by any other on the market, worthy of a place on any coffee table or shelf.
And give it a try. Open this book to any page and prepare to be struck with wonder.
---