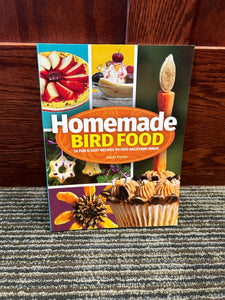 Homemade bird food 26 fun and easy recipes to feed backyard birds
Regular price
$12.95
$0.00
Unit price
per
A few minutes in the kitchen can become hours of birdwatching fun. Take birding to another level by creating unique dishes, especially for backyard birds. This creative cookbook turns bird food into a banana, splits, cupcake, pie, and even tree ornaments. Each dish is perfect and tackle alone or with the whole family.


Inside your find
26 recipes to attract the bird you want
Ingredients that appeal to 70+ bird species, including hard to get birds
Tips on selecting the right ingredient for the
I handy chart that shows which birds dying on each
Bonus tips for cooking with kids, wildlife, research, projects, and a bird identification section
See more birds, and making birding even more interactive. Invite everybirdy, to your yard with a banquet of nutritious, homemade foods.
---